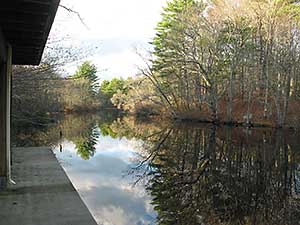 The Wood-Pawcatuck Watershed Association (WPWA) was established in 1983 in response to a groundswell of interest generated by a National Park Service study conducted that year, which identified the Wood and Pawcatuck Rivers as "…unique and irreplaceable resources." W. Edward Wood, at a party in his honor upon leaving the Director of RIDEM position, was presented with a check made payable to Wood-Pawcatuck Watershed Association, prompting the formation and incorporation of the organization.
In 1987, with a three-year grant from RI Foundation, WPWA leased its first official office space, and hired its first part-time staff, an executive director, to advance the association from its humble beginnings to a nationally recognized conservation agency. That same year, volunteer water quality monitoring was born within the watershed, launching what is now known as URI Watershed Watch.
In 1992, the executive director position became full-time, and in 1993, a grant award was received from Champlin Foundations to locate a permanent river-front headquarters for WPWA on the Wood River at Barberville Dam. In April of 1999, WPWA was designated as the Watershed Council for the Wood-Pawcatuck by the RI Rivers Council, giving it legal authority to advocate for the Watershed. In the Spring of 2001, WPWA and RIDEM completed the project of locating a public, handicapped-accessible fishing pier and boat launch at the site of the WPWA headquarters.