Fishing is an ancient practice that dates back many thousands of years, primarily as a source for food. Nowadays though, it is mainly a reason to get out of the house, enjoy some peace and reconnect with nature. In the Wood-Pawcatuck watershed there are many beautiful public sites to drop a line. Whether fishing for trout, pickerel or bass there are numerous locations for fresh and salt water fishing in the watershed.
Fishing Freshwater in the Watershed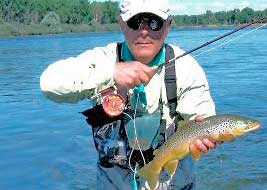 The Wood and Pawcatuck Rivers are more than a Western spring creek misplaced in southwestern Rhode Island. Their sizes and placid runs are more like my favorite rivers in the Rockies than like their many sisters in New England. They are as beautiful as the native brook trout, browns, and rainbows, holding in their pools and tiny riffles. The "Wood," as it is affectionately referred to, has been, for the last twenty years especially, a brown trout river supreme, while offing some of the best native brook trout fishing anywhere in our state. Its bottom is easy to wade; copper and gold color gravel and stone are the case most of the time.
Both rivers are abundant in insect life, caddis flies, stoneflies, midges, and terrestrials, yet hosts good mayfly hatches such as, Black Quills, Hendrickson's, Gray Fox, Mahogany Duns, Blue Wing Olive's, and a few more mayfly hatches. The Giant Mayfly (Hexagenia limbata) is the Wood's supreme hatch that anyone who has the good fortune to fish, in the right place, at the right time, will remember forever.
These rivers are thriving. While the old timer's compare present-day fishing to the way "it used to be," these rivers are being managed by the Rhode Island Department of Environmental Management's Fish and Wildlife, and with tremendous help from The Wood Pawcatuck Watershed Association, the Wood River Fly Fishing Club, and The Narragansett Chapter of Trout Unlimited. Float stocking has made trout fishing on the Wood River fantastic all season long thanks in great part to volunteers from the Wood River Fly Fishing Club.
The Wood River, which flows through the heart of Arcadia Management Area, offers anglers one of the best freshwater fishing experiences available in the state. You need to know, some parts of the river are available to fly fishing only, and others are "catch and release" only. (Contact the DEM's Division of Fish & Wildlife for more information about fishing in these areas.) For canoeists, kayakers, and boaters, these river's have a Class I and Class II stream rating, which assures an unforgettable outdoor experience for both novice and experienced. A designated canoe, boat, and kayak launch area is found at the Check Station on Route 165, and there are put-in or take-out areas at each major road crossing. Again downstream of Route 165 (Check Station), a good ½ mile or so is another public access called High Banks and the next ½ mile downriver from that access, called The Pines, and then about two and a half miles downstream to Barberville Dam, Arcadia Rd. at our WPWA Headquarters.
Fishing Saltwater in the Watershed
If you are interested in pursuing saltwater fishes in the lower watershed, striped bass and bluefish to name a few, you have several options. Early in the season, April for instance, launch a car top vessel (e.g., canoe or kayak) at one of several public access sites in Westerly, RI or Pawcatuck, CT. Most notable are the RIDEM ramp across from Avie's Ski / Sports on Main Street Westerly, behind CC O'Briens Sports Cafe on Mechanic Street in Pawcatuck, or the access at Stanton-Weir also on Mechanic Street. From there, go upriver or down, casting streamer fly patterns or small spinner lures or spoons from a spinning rod. Early season will see striped bass to 24-inches with a surprise slammer every so often.
Once you get into May launch from the Barn Island boat ramp or a marina at the mouth of the Pawcatuck River and fish along any of the shoreline for striped bass that can run to 36-inches; bluefish will be mixed in as you get into June and the water warms. The inshore fishing stays solid until the water warms in July. Don't neglect any of the little indents along the shoreline, especially rocky points of land as you head away from Barn Island towards Watch Hill. The large inlet to the east as you leave the boat ramp can hold some nice surprises. Perch Island, a rocky outcrop marked on nautical charts, is a magnet for early season striped bass. Don't neglect the deep cove to the northwest of Perch Island.
Once the heat of summer settles in, you will need to get out to Napatree Point or Sandy Point where striped bass and bluefish can be found until well into October. The western side of Sandy Point, extending over to Napatree Point, has extensive eelgrass beds that holds lots of baitfish throughout summer and into fall, drawing in striped bass and bluefish. The hovering, diving terns and gulls will tell you where the bait is schooling. Chances are the fish will not be far away. Every so often, during September, you will bump into False Albacore or Bonito between the northern tip of Sandy Point and Stonington Point.
Sharing the Pastime You Love – Taking a Child Fishing
If you are going to take along your favorite youngster there are some important things to consider before you start.
Many states offer "kids only" fishing areas. These are often locations that are well stocked which will ensure that fish are caught and spirits are kept high. If the area has been stocked with bluegill the chances of kids hooking a fish and getting hooked on the sport are the greatest! Rhode Island offers many sites restricted for children under the age of 15 with two in the Pawcatuck watershed, Frosty Hollow Pond, Exeter and Lloyd Kenney Pond, Hopkinton.
Try to keep it short. Just because you are content to stay out on the river or at your favorite pond all day does not mean the kids you bring will feel the same. Their attention spans are limited so bringing along a care package will help keep them entertained when the fish aren't biting. A ball for playing catch, crayons and coloring books, a shovel and beach pail for exploring and collecting, and plenty of snacks are some useful things to have on hand to keep smiles abundant. Don't forget, if they are having fun spending time with you they will associate that with the "fishing trip."
The most important thing to consider before you begin is safety. If you plan on fishing from a canoe or row boat you'll want a securely fitted, PFD (Personal Flotation Device) for every child you bring. Even if they know how to swim they will still probably become disoriented and nervous if they fall in. The PFD will help them to relax, float, and listen to direction to ensure their safe return to the boat.
Bring plenty of water and sun block too. Depending on the time of year, you might need bug repellent but try to avoid getting it on your palms since it will be harmful to the fish when you go to unhook it from your line.
Taking youngsters fishing provides you with a great opportunity to talk to them about respecting nature, too. Remind them that all the wonderful things they see in the area like frogs, flowers and lily pads are part of the fish's habitat and should remain there when your trip is over. One thing that should not remain, however, is trash. "Carry out" everything that you "carried in" and encourage the kids to pick up any other trash you see lying around, too.